Waldie Island
Waldie Island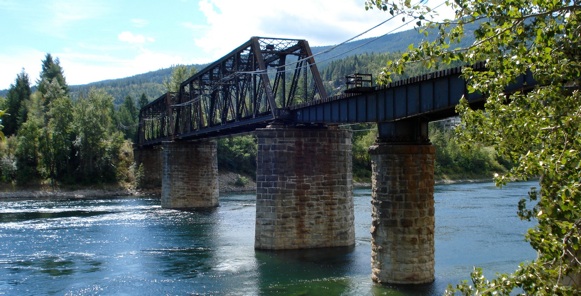 Difficulty Level: Easy
Distance: 1.5km
Elevation Gain: 0m
Dog Friendly: On leash only
Bike Friendly: Bikes are allowed on this trail
Facilities: Bird viewing platform
Season: Year-round
The Waldie Island Trail was developed in 1996 by Walter Volovsek and Castlegar Friends of Parks and Trails to reclaim the historical heritage of this important stretch of the Columbia River and to introduce to the hiker the intricacies of the surrounding riparian ecosystem. This trail goes through a protected Blue Heron bird sanctuary known as the Waldie Island Heron reserve.
This is a non-motorized multi-use trail shared by cyclists and hikers alike. We ask of dog-owners to please keep their pets under control at all times to prevent them from disturbing birds. This is particularly important for Blue Heron population recovery in this area.
The trail follows the north shore of the river from the C.P.R. Bridge to Brilliant, a distance of 1.5 km. It is designed as a self-guided trail, richly rewarding for the contemplative hiker.
The Waldie Island Trail runs through a wildlife reserve and because of ecological sensitivity, is meant for non-motorized traffic only. Dogs running loose can frighten and harass the wildlife we are trying to protect.
With the operation of the Keenlyside and Brilliant Dams, water levels can change rapidly (over an hour or two). Please exercise appropriate caution and USE AT YOUR OWN RISK.
---
Waldie Island Access
West Access
Drive north across the bridge connecting Castlegar and Robson
Turn right onto Old Mill Road, a gravel road 500m after the bridge
Pass under the railroad bridge to the parking lot
East Access
Drive north across the bridge connecting Castlegar and Robson
Take your 2nd right onto Makayev Road into the community of Brilliant
Quick right on Brilliant Road and park at the dead end
Access from Pass Creek Regional Park
Take short trail from southeast end of soccer field up to Broadwater Road
Cross Broadwater Rd and proceed down Waldie Lane
Follow signs to Waldie Island Trail; cross under bridge and trail is marked.