Brilliant Overlook
Brilliant Overlook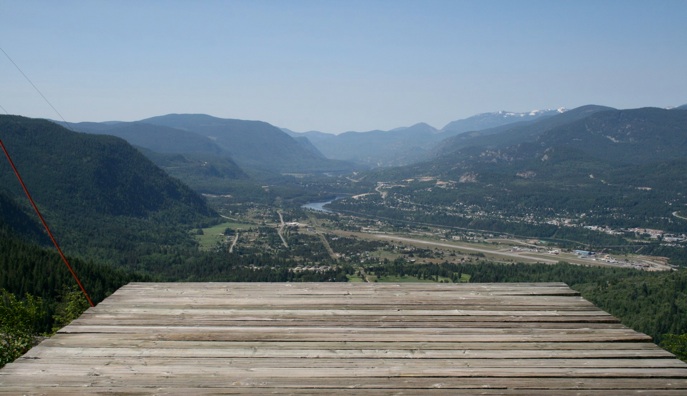 Difficulty Level: Intermediate/Advanced
Distance: 3km one-way (from Brilliant Substation to Summit)
Elevation Gain: 350m
Dog Friendly: Yes
Bike Friendly: No
Facilities: Pit toilet available at the Brilliant Substation
Season: Potentially year-round (be aware of extremely hazardous conditions that may arise in winter due to melt-freeze cycles)
A challenging climb up 330 metres up back of the bluff on the east side of the Kootenay River, which overlooks the Brilliant Dam. Handrails and other aids make the climbing easier. The view of the two river valleys from the top is incredible.
Other Info: This trail is quite steep in some sections, experienced hikers only. Use extreme caution and be sure of your footing. There is no water available on this trail so bring plenty of your own.
---
Brilliant Overlook Access
Access from the Brilliant Substation Parking Lot:
•Leave Castlegar heading towards Nelson on Hwy 3A
•Before the Brilliant bridge, turn right on Ootischenia Road and head up the hill
•Follow signs to the golf course, turn left on Corrigan Road turning into Columbia Road
•Turn left on Aaron Road
•Turn right on gravel road with gate which is called McPhee FSR (note gate closure times), follow for 4km, keep left at 2km fork in road.
•*Alternative*: Keep right at fork to access Upper Brilliant Overlook parking lot. Road may be closed. Extremely dangerous during slippery road conditions. Not recommended.
•Turn left into parking lot before the Substation
•Follow the Skattebo Reach Trail on foot for 1 km until you reach the trailhead on the right
Hikers Access from Park and Pool:
•Follow signs for Skattebo Reach Trail from park and pool
•Follow Skattebo Reach for approx. 2.3km passing the Brilliant Substation
•Trailhead is on the right with a sign-in kiosk