Natural Arch
Natural Arch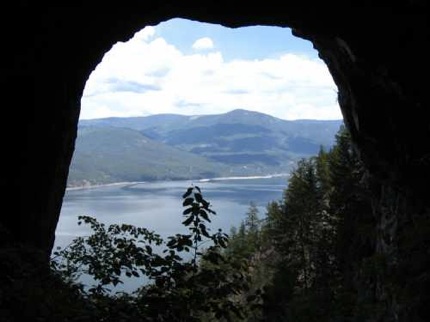 Difficulty Level: Advanced
Distance: 2.2km (from trailhead on East side of Arrow Lakes)
Elevation Gain: 250m
Dog Friendly: Yes
Bike Friendly: No
Facilities: Camping at Syringa, Boat launch at Deer Park
Season: Year-round
The trail is steep with dangerous drop-offs. Please use caution, wear properly soled boots for traction. Total hiking distance is about 2.2 km. (one way) from the marked trail-head in the bay Trail head is accessible only by boat (small craft warning, winds can quickly build up on the Arrow lake causing rough passage by boat) and is directly across from the small settlement of Deer Park on the east side of arrow lakes. Deer Park is accessible by car on a gravel road from Syringa Provincial Park a distance of 4 km.
The original trail, which climbs 250 meters from the lake, was constructed by local Deer Park residents many years ago. A few years later the Forest service rebuilt this trail, it joins the older original trail after crossing a scenic rocky gully. The old part of the trail is steep and climbs up a rocky hillside via ramps and narrow ledges.
At the end of the trail and around the corner is a natural arch 44 meters long, 4 meters thick and 20 meters off the ground. Under the arch, the trail splits: a short branch to the left leads to a refreshing pool filled by water; a somewhat longer branch heads up to the top of the arch along a challenging trial which is not for the meek as it requires navigation along massive roots of trees which are perched at one end of the arch. Once on top what a view!
The arch was formed over geologic time as water from a small pond fed by the existing creek gradually weakened the underlying rock .If one looks carefully, chunks of the crumbly eroded black lamprophyre rock can still be found in the debris under the arch and along the walls.
---
Natural Arch Access
•Drive north across the bridge connecting Castlegar and Robson
•Turn left on Broadwater Road into Robson and follow for 23km, 4km passed Syringa Provincial Park to the settlement of Deer Park
•Trailhead is accessible only by boat (small craft warning, winds can quickly build up on the Arrow lake causing rough passage by boat) and is directly across from Deer Park on the east side of Arrow Lakes